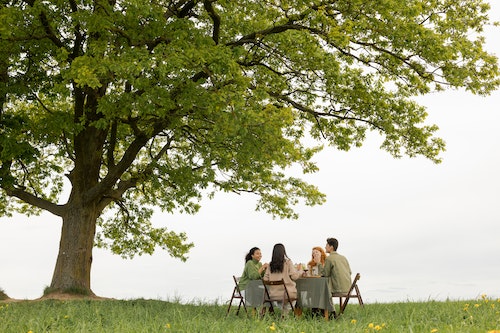 If you want to make great use of your outdoor living space, it never hurts to have a few extra outdoor entertaining ideas. Hosting an outdoor dinner party or other gathering is possible all year with the right planning and supplies. To inspire your outdoor entertaining plans, try these simple ideas:
Prioritize your guests' comfort when entertaining outdoors
Weather is definitely one of the most important considerations at outdoor events. Your guests shouldn't have to worry about cold or hot temperatures, so gather the necessary supplies and comfort throughout the day. Add throw blankets on chilly nights and evenings, or go even further with fireplaces and outside heaters if desired.
Keep pests at bay
Mosquitos and other pests can be a huge source of frustration at outdoor events. To keep them away, set up the proper protection for your outdoor space. Citronella candles are a fragrant favorite for keeping mosquitos at bay, and bringing a basic box fan outdoors to keep the air moving is another simple strategy.
Use casual dishes & glassware
Your fancy dishware might enhance your food's aesthetics, but it's not worth the chance of accidentally breaking a family heirloom. Instead, invest in casual but functional dishes and glassware. Modern acrylic cups and glasses are a close match for real glass, but won't break on hard outdoor surfaces.
Repurpose indoor items
Almost anything which works inside can be repurposed outside. Create indoor-outdoor spaces for people to relax by using favorite pieces from inside your home. A discussion area or lounge area can be set up to give ample seating for groups. Spreading rugs and pillows will enhance the coziness of any outdoor party.
Outdoor entertaining is a wonderful way to enjoy your outdoor space any time of year. With the right outdoor furniture and accessories, these ideas will help you plan your next outdoor entertaining season and beyond.